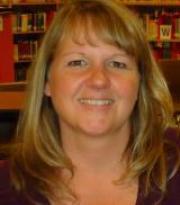 Educational and Professional Background
Welcome Fifth Graders,
I am excited to begin the new school year. I have been teaching for over 30 years in the school district and have taught every grade level K-12. I earned my degree in Elementary Education with minors in Spanish and health. I also hold my Master's of Education in special education with an emphasis on learning disabilities and behavior disorders. I have been teaching at Lopez for 13 years in fourth, fifth and sixth grades. I have enjoyed teaching all of my students, but I especially enjoy fifth grade. The fifth graders are old enough to engage in discussions about history and the world around us. They have a great sense of humor and are willing to laugh with their teacher. I teach all of the fifth grade math classes and am equally comfortable with advanced and remedial math students. I teach a WIN reading class and writing including spelling and grammar.
Personal Interests and Hobbies
Was born in Arlington Heights, Illinois. We moved to Colorado when I was only 5 years old, so I feel like a Colorado native. While I lived briefly in Barcelona, Fort Collins is my town. I love to ride the bike trails, kayak on Horse Tooth, hang out at the pool, and explore the restaurants downtown. My kids are grown now. I have a daughter, Christen, who is married and has a three year old son. She is finishing her degree at CSU in interior design. My son, Mitchel, is working full-time in landscape and design. I like to swim and dance. I'm blessed with great family and friends. I believe in living grateful, and I have many reasons to give thanks. Teaching fifth grade at Lopez is certainly one of them =)
About My Classroom
I teach 5th grade math and spelling.
Fifth grade math has a set of mastery skills around computation that includes: addition, subtraction, multiplication, and division of whole numbers, decimals, and fractions. We also cover area, perimeter, and volume, graphing and understanding data. Some of our students explore rate and ratio as well as basic algebraic equations. Students spend their time in class building their core understanding mathematical concepts and applying their math skills to real world problems. It is a fun, fast paced, interactive class. =) We do have math homework almost every night.
Fifth grade spelling is intertwined with writing. We do have a weekly spelling list with a specific spelling rule. Lists are passed out on Monday and outline the homework for each night of the week. Homework should be ready to grade and turn in the next day. The spelling tests are on Friday. This year, there will be an emphasis on spelling within writing. The students will work on writing a variety of sentences with their spelling words, building to figurative language like homonyms and similes. They will also have an opportunity to work on paragraph development.